Invitation
Healthy people for competitive companies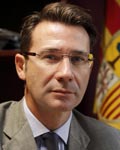 Jesús Divasson
General Director of Employment Aragon Government

One of the priority actions of Aragon government consists in boosting the competiveness and growth of the enterprises. Anyhow, in certain occasions, the economic circumstances don't benefit the necessary business model review of the companies which have to set the competiveness as an achievable challenge.
Sustained economic growth momentum is necessarily linked to the creation of effective and efficient politics that have e direct impact on the constant pursuit of business excellence. And this requires a certain coordinated push from the Public Administration to promote improved working conditions and to lead therefore to an improvement in the health of people.
But the question has no easy answer. How can improvements in such diverse factors such as work schedules, nutrition, physical efforts, transfers, insurance, environmental aspects, equality and reconciliation be fostered, when companies have their sights set on improving their level of competitiveness?
Both issues- competitiveness and occupational health- don't have to be treated as antagonistic, but rather as cogs in a machine that should adjust itself to work properly. In other words, we should help businesses to scale seamlessly organization planning so that this could contemplate in harmony and in a compatible way all social, human and business requirements needed, if we are to achieve the goals of excellence.
If we are able to provide an adjustment model of work factors that implies both consensus and efficiency we will have healthy persons working in efficient companies which is a prerequisite for our companies to create value and respond competitively to a demanding and globalized economy.
Zaragoza will be for a few days a scientific technical laboratory for the occupational risk prevention where various actions for constant improvement will be highlighted. The meeting will serve as a "benchmark" to extract good practice that will design the basic experiences of a healthy enterprise of the 21 century. I truly believe that the program and content of the conference will be of interest to all professionals and companies linked to the world of prevention. Surely we can greet each other in person for a few days and share this experience with the enthusiasm that the aragonese people welcome those who visit them.
Aragón, international model for prevention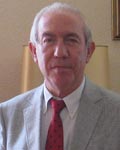 Francisco Bono
Economic and Employment Adviser of Aragon Government

Ensuring health and safety at work and promoting an appropriate risk prevention policy are guiding principles to be carried out by public authorities stated in the Spanish Constitution and in the Statute of Autonomy of Aragon. The basic rights involved in risk prevention such as the right to life, to physical integrity and health, determine that the actions aimed at improving the safety and health of workers constitute a political objective of major importance.
Aware of this importance, the Economic and Employment Department of Aragon Government, through the Head Office of Labor as the responsible entity for the implementation of this public policy, carries out its work with the aim of encouraging the preventive culture of the aragonese companies, its employees and society in general, in order to achieve a steady reduction of workplace accidents and their consequences.
In addition to that, it has to be appreciated that in difficult times like these, our production system has to be as competitive as possible and undoubtedly one of the most important factors that helps improve business productivity is a good management strategy based on human resources, in which the safety and health of workers constitutes an essential element. A company that invests in prevention is not only a safer company but also a more productive company and therefore a more competitive one.
Enhancing the awareness and dissemination of risk prevention culture is a collective effort. Sharing experiences, diagnosing problems, finding solutions, exchanging information makes it possible to progress toward this objective and in this sense we should take the opportunity that offers the celebration of the International Congress ORP 2014 to turn Aragon for a few days into a world leader in the study and observation of occupational risk prevention.
With this goal and mindset, we would like to give to you a warm welcome from the Government of Aragon and invite you to the XII International Congress on Prevention of Occupational Risks (ORP 2014) to be held in Zaragoza on 21, 22 and 23 May 2014. We look forward to your participation.
ORP 2014: A moment for living the prevention, boosting the competiveness of your company and enjoy the magic of Aragon